Photographic Keepsakes & Event Merchandising Products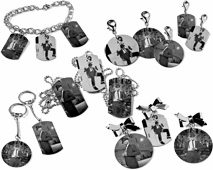 Wide Array of Event Merchandising Charms and Findings
How Charming's unique line of products has a combination for anyone and any event. These high quality charms will not scratch, fade or tarnish, delivering your brand message for years to come.
Click on the menu to the left to explore our exciting line of photographic keepsakes and event merchandising.
Be Memorable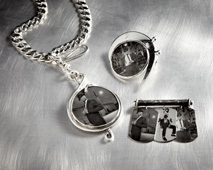 Specialty Items Available
Our high quality process can be applied to other precious metals, and we are fully equipped to manufacture and/or design custom pieces. Click the picture for high definition pictures of our custom work for NE-YO!

Please note that minimum orders and other restrictions may apply.
Be Unique

Turnkey Process
Upload your picture, choose an item, and enjoy! Our easy two-step turn-key process allows us to concentrate on providing you the best service, while you focus on your event. Along with a proof for approval, we offer enhancement, design, or creative advice as needed.

For over five years, How Charming has been providing products and interactions with our clients that focus on quality. Service and convenience, along with our dedication to quality are an integral part in all our products.

For our clients convenience, we save your templates too. So your next batch is only a phone call away!